Family Motto Board (Easie Peasie!)
.
Such a great idea! Write anything on it, hang it anyway, and make someone smile everyday!
DIY Menu Board!!
12 X 12 picture frame (use your 40 percent off coupon at Michaels if it isn't already on sale)

1-2 sheets, 12 X 12 paper (solid or patterned or both)

Chipboard or large sticker letters

Dry erase marker – you can use on glass!

Adhesive velcro
Create your menu page using 12X12 paper. This can be scrapbooking paper or you could even use wrapping paper, rice paper…use your imagination! The design can be as simple or as detailed as you wish. Don't freak out…you do not have to be a scrapbooker – you literally just cut and stick pieces of paper and lettering together.If you are into Heritage Makers or graphic design, you could even create the 12X12 page on the computer.

The main thing is that the days of the week (I just use the first letter of each word) are on the left side so you have plenty of room to write. Also, you don't want it too thick with embellishments as you still need to frame.

Once done, insert your page into the picture frame.

Place a small piece of adhesive velcro on your dry erase marker and in the groove of your frame's molding. This step is optional – just ensures you don't lose that marker.

Either hang the menu on the wall or put in a frame or plate holder.
Festooning a six foot privacy with marbles is addictive fun that really adds a pop and punch to the garden setting, especially when the sun hits it from the back. The process is pretty simple. I would recommend using new marbles. Vintage marbles will vary in size, slightly, so it you can deal with this, go ahead. So first, find your marbles if you've lost them, then determine a drill bit size that will bore a hole, ever so slightly smaller than your marble. You want it to press in snugly to help it stay put. No adhesive needed. I advise drilling test holes in scrap wood to help you get the right sized holes made. You made need to purchase a special sized bit. Then go to town. Create a meandering pattern of holes on your fence. Think constellations of stars for inspiration. A gate is a great place to begin, but anywhere you can drill will benefit from the little glimmers of colorful light.
Today I'm going to show you all how to make your very own snow globe! Hooray! I've always loved snow globes and thought it'd be fun to make my own. :) This took LOTS of trial and error. But I finally did it! Here we go...
First you'll need:
Mason Jars
Liquid Glycerin (this helps the snow fall slower)
Distilled Water
Fake Snow
Hot Glue
Your Choice of Figures
Optional- I found rocks (in the pet section at wal-mart. I figured they'd be nicer than ones from the yard) so that my figures would stand taller.
All of these things can be found at your local grocery store. (I did have to go to Hobby Lobby for the trees. But I'm sure as it gets closer to Christmas they'll be easier to find)
Step One-
Hot glue your scene to the bottom of the Mason Jar lid and let it dry.
Be sure to fit your scene on the inside of the rim. It won't fit otherwise. Also be sure to measure the height of your scene to fit in the jars you've selected.
I decided to go with a woodland animal theme. I love them. :)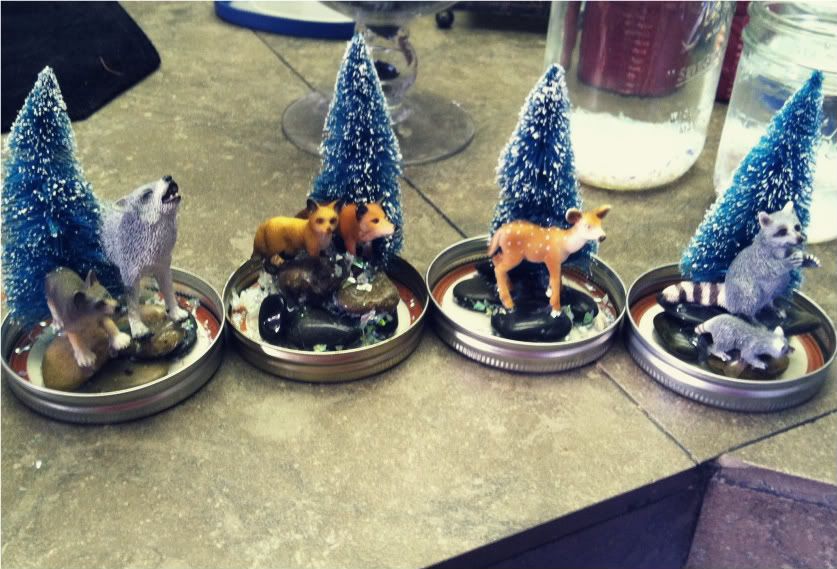 Step Two-
Place one to two tablespoons of snow and a dash of liquid glycerin in the bottom of the Mason Jar.
Step Three-
Fill the Mason Jar with the distilled water. You'll want it pretty full but remember that your scene will take up space as well.
Step Four-
Place the lid (with the scene) onto the mason jar and screw the lid on TIGHTLY.
then
ENJOY!
*NOTE* the snow may float at first. But the longer it sits in the water the more it will sink to the bottom.:)
DIY Thumb Print Christmas Cards :)
HOW TO MAKE THE ULTIMATE MENU BOARD
You will need-
2 sheets of decorative 12 x 12 scrapbook paper
2-3 additional coordinating decorative papers
several sheets of solid colored card stock (for meal cards and pockets)
the boxes from two 16 ct crayon packs
letter stickers (for title)
Meal cards---
Preparatory to using your board, gather several meal ideas (I have about 35) and their recipes. Make a 2 column word document- typing your menu on one side of the page and the ingredients in the column next to it. You should have room to print about 5 menus/ingredients per piece of printer paper. After printing, cut the meals/ingredients out into strips and fold each strip in half, giving you a front and back. Laminate the cards. I used self-laminating paper which worked okay but not perfectly. (Because I didn't leave much empty space around each card, some of my cards did not seal well all the way around. If I did it again, I would have them done professionally or with the use of a heated laminator.) My cards measure 1 ½ inches tall and then half of the width of an average size paper (4.25 inches) across.
Frame Background
Trim the decorative scrapbook paper to fill your frame. You will use one full sheet and just need a couple of inches of a second piece of paper in order to fill the entire frame. Where the two sheets overlap, place a thin piece of coordinating paper across the width to hide the seams. Put the title above that line using scrapbooking letter stickers. Place in the frame. Secure the background into the frame. Everything else will be done on top of the glass.
Clothespins
Trim strips of paper to fit on top of your clothespins. Using a mixture of 1 part elmers glue to one part water (homemade mod podge,) brush the glue onto the clothespin, place the paper on top and add more of the glue mixture. I think I did about 3 layers of the glue. When the clothespins are dry, you may add the days of the week to each pin if you choose. I punched out little circles and just used the letters
m, t, w
, etc to designate the day of the week. Space your clothespins evenly along the left hand border of your frame and hot glue them into place.
Pockets-
I used 16 count crayon boxes as the base for my pockets. Turning the box horizontally, cut out one long side- this will be the opening of your pocket. Lay the box out flat onto a piece of card stock and trace it. Cut the card stock out and glue it on top of the crayon box—making folds to match the boxes folds as you go. Reassemble the box, gluing or taping together the open sides. I left just about a half inch extra along the long sides so I could wrap my paper over the top edges of the box for a smoother look. After assembling your boxes, cut a strip of coordinating paper to use as an accent and glue around the pocket. Hot glue the pockets directly onto the glass of your frame.
Supplies:
Mason Jars

Food coloring

Ramekins to mix colors

Newspaper or paper bag
Mix food coloring with a T or so of water into individual ramekins. You can do any color combination you like.
Add a couple T of mod podge into your mason jar
Add one ramekin of color into the jar and stir to incorporate it all together
With a bowl underneath, carefully twist the jar around coating the whole inside with the mod podge/food coloring mixture. Pour the excess out into a bowl.
Let dry upside down on the paper
Do the same with the other colors. Let them dry for about 30 minutes this way.
Place the jars face down on top of wax paper and a cookie sheet into an oven, set on warm. Let dry upside down this way for about 10 minutes and then flip them over and let them dry another 20-30 minutes.
When they're ready, they'll look clear and the mixture should lose most of its streaks. If there are streaks left, continue to let it dry out in the oven. The pink one above I put back into the oven after seeing those streaks at the top.
A gorgeous set of deocorative mason jars for flowers or plants or illuminated with battery operated tea lights for an outdoor party (but not safe to drink out of anymore).
Turn a spice rack into a sprinkle rack!!
(Just added a few coats of white spray paint and